Edit Notes
In this game, you will get alien super powers from Ben. You will feel the really fast speed. All these wonderful things will make you crazy. You can jump, you can run and you can smash everything on your way. Of course, there will be all kinds of enemies and obstacles, even super villains to stop you and you need to fight with each of them. It is not a very easy thing, because each of them also has their own superpowers. So if you want to win, and if you want to kill your enemy, you must always keep alert and keep concentrating on your fighting. Quick reaction is the key. Here you must always attack before your enemy attacks you. Do not show any weakness under critical circumstances. The good news is that in this game, Ben can use the Watch Known as the Omnitrix to turn into superheroes and all these heroes are equipped with amazing abilities. So it is really wonderful to turn into the super strong hero with four arms, with super powers and with the lightning speed. All the super powers in this game are really incredible. And it will give you a sense of satisfaction by using each hero's individual super powers to blast the bad guys and smash all the obstacles into pieces. You will be invincible. So it is very important for you to upgrade your super ability from time to time, which can help you win more advantage while you are combating with your enemies. Generally speaking, everything in this game is out of your imagination. And you need to remember to pick up all the gold coins. With these gold coins, you can buy new outfit and other weapons. While you're enjoy yourself through all these wonders, do not forget to kill your enemy in the least time and try to save your energy. And another idea is that you can try to kill more enemies while your abilities are strengthened because of the power-ups. And always run fast and focus on your job. At last, remember to collect all the power-ups on your way because of all the power-ups can strengthen your ability and make you faster and stronger. Anyway, it is your time to forget everything else and enjoy yourself in this game as a hero. And you just need to relax yourself and master the Omnitrix. And it is your own destiny to save the world in this wonderful game. And you will feel a kind of unprecedented exciting feelings in this game. All the details are handled perfectly. And the quality of the graphics is really wonderful. In a word, it will not let you down. And you should definitely try it. You will feel like you are so Free. And you have no burden of any kind. And everything is under your control. Today your main job is to save the world!
Promotional Video/Screenshot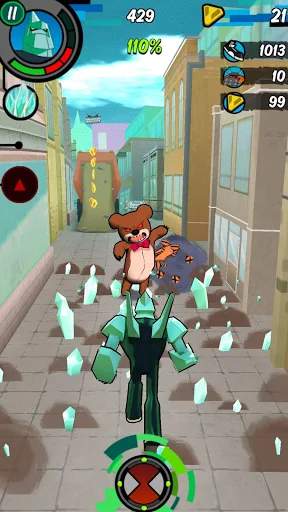 Get the game
Description
Use Ben 10's alien powers to run, jump and smash your way past enemies, obstacles and supervillains in Ben 10: Up to Speed!
MEET BEN TENNYSON
Ben was on a road trip with his Grandpa Max and cousin Gwen when he discovered the alien watch known as the Omnitrix. Now, he can use it to turn into alien superheroes, each with amazing abilities.
UNLEASH ALIEN POWERS
Turn into the super-strong Four Arms, the fiery Heatblast, the lightning-quick XLR8 and more incredible aliens. Use their individual powers to blast the bad guys, smash through obstacles and even access alternate paths.
POWER UP THE OMNITRIX
Level up your aliens and the Omnitrix itself to become faster, stronger and more heroic. Change into the right alien in each situation to make the most of your powers.
MORE ALIENS, MORE LEVELS, MORE BOSSES
Stay tuned for massive updates! We'll be adding new aliens with their own unique powers for even more ways to play. You'll also get new levels & environments and new boss battles to test your skills.
Master the Omnitrix and its aliens to save the day in BEN 10: UP TO SPEED!
*********************
This game is available in the following languages: English, French, Italian, Spanish (Latin American), Portuguese (Brazilian), Russian, Turkish, Korean, Japanese
If you're having any problems with this app, feel free to contact us at
[email protected]
. Tell us about the issues you're running into as well as what device and OS version you're using.
*********************
IMPORTANT CONSIDERATIONS:
This app may contain ads that feature other products, services, shows or offers from Cartoon Network and our partners.
PRIVACY INFORMATION: Your privacy is important to us at Cartoon Network. This game collects and uses information as described in Cartoon Network's Privacy Policy linked below. This information may be used, for example, to respond to user requests; enable users to take advantage of certain features and services; personalize content; serve advertising; perform network communications; manage and improve our products and services; and perform other internal operations of Cartoon Network web sites or online services. Our privacy practices are guided by data privacy laws in the United States. For users residing in the EU or other countries outside the U.S., please note that this app may use persistent identifiers for game management purposes. By downloading this application, you accept our Privacy Policy and End User License Agreement, and you give permission for such uses for all users of your device. The Privacy Policy and End User License Agreement are in addition to any terms, conditions or policies imposed by your wireless carrier and Google, Inc. Cartoon Network and its affiliates are not responsible for any collection, use, or disclosure of your personal information by Google or your wireless carrier. 
Terms of Use: http://www.cartoonnetwork.com/legal/termsofuse.html
Privacy Policy: http://www.cartoonnetwork.com/legal/privacy/mobile.html
Related Games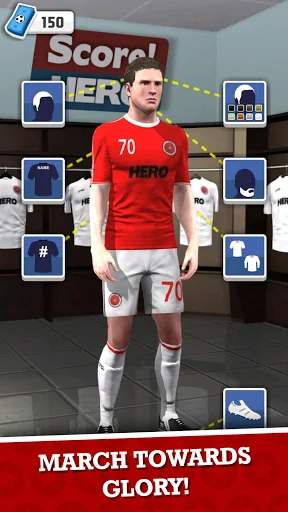 You will have a wonderful mobile soccer experience by playing this game. There are altogether 720 levels. It feels so good to represent your country and win glories. Of course, you can also take part in regular events for medals. Compared with traditional soccer games, this game allows for more freedom. Apparently, it is very simple for anyone to play this game. In the meantime…
23 Sep,2020 This is a classic game. It is very popular around the world. The cute Pac-man is adored by millions of players. As for the gameplay, there are three control schemes available, including the joystick, the swiping and the device tilting. You can choose whichever is more convenient for you. And once you get ready, you can start to control the little yellow Pac-man running around t…
23 Sep,2020