Edit Notes
This is a really great game for children. There is no need for you to worry about that it may be too difficult for your young child to play because there are three modes available: easy, medium and hard. So you can choose to start from the easy mode. Even if easy mode is still not easy for your child, it is OK because there will be a training programme before your child really starts his journey. And once your child is skilled enough, it is advised to move to the hard part. Each task can be completed step by step in this game. So there is no need to feel tense all the time. You and your child just need to fully enjoy yourselves in this amazing world. You will be totally attracted by those cute animals. Actually, there is no need to feel tense at all. Nothing is spontaneous. You can just line all the arrows and signs beforehand in the correct way. And the hero will move by following this line. Try to get all the tree stars at the end of each level. It is not just about having fun. This game can help your children to have a sharp sense of logic. And all the beautiful background scenery can help him or her have a better understanding of those common things in our nature and in our daily lives, including butterfly, cloud, buildings and so on. Besides, this game can also help children enhance his or her imagination because the pictures in this game will make him or her automatically imagine what the world under the water would look like or the true face of the world on the moon. And he or she might even imagine how can I fly as free as those butterflies? Or how can I become a hero? And your child would be really happy to reach the end of the journey in each level all by himself or herself, which can greatly improve his or her self-confidence. You can never imagine, as an adult, how wonderful it is to fly under the water with the stars and other heroes. For your child, it is so amazing that he or she can really stay here forever. And swimming under the water by pretending to be a certain hero is so fun that your child would like to explore this world by himself or herself. In the long run, he or she will learn many abilities by solving all those puzzles one by one. Overall, this is a really wonderful game for children aged between 4 years old and 7 years old. It is time for your child to be a hero and destroy the villain. Never judge your child even if he or she made a mistake from time to time because only by making mistakes, he or she will learn how to solve all those problems step by step. Of course, the challenges will become harder and harder. But be patient and try not to tell your child the correct answer right away and just let him explore by himself. It is a great opportunity for your child to meet all the challenges on his or her own and to prove his or her true strength. And believe me, he or she would be so happy to successfully collect all the golden stars and amulets. Last but not least, this game can also help your child form a good habit of concentration when he or she is handling some tricky problem, which is really hard to cultivate among the adults. So start your unknown journey with your child right now, together you will open a wholly new world!
Promotional Video/Screenshot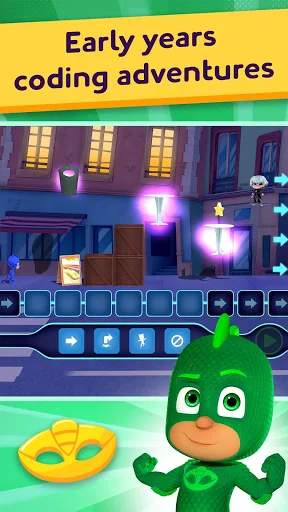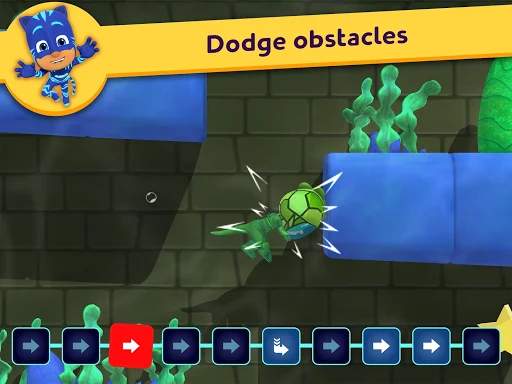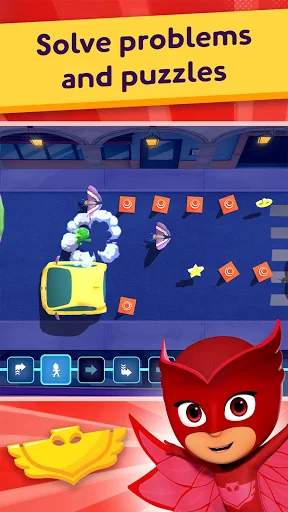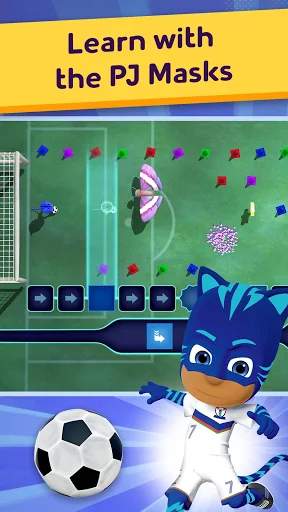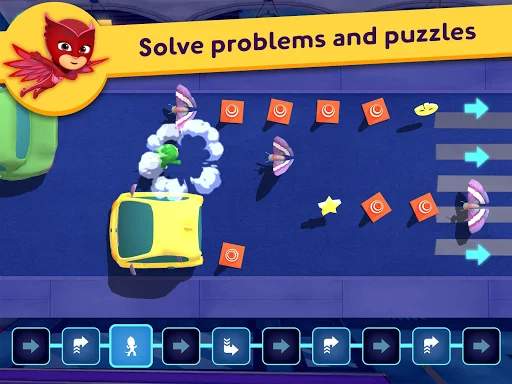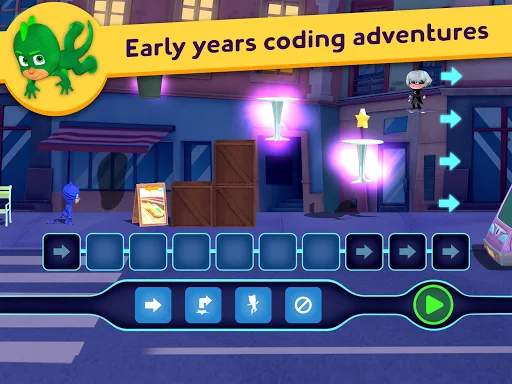 Get the game
Description
It's time for you to take control of the PJ Masks' epic adventures! Hero Academy teaches STEAM (science, technology, engineering, art and maths) learning through the fundamentals of coding, standing apart from other coding apps with its fun and exciting gameplay, stories and animated action.
For kids, aged 4-7yrs, this app will introduce age-appropriate concepts such as logic, puzzle-solving and algorithms – breaking the big picture into smaller steps for your mini-heroes.
Join PJ Robot in the HQ and help guide Catboy, Owlette and Gekko through obstacles using their awesome super powers, and defeat the night-time baddies! Watch as the action unfolds and learn key coding skills along the way.
EARLY YEARS CODING
• This app will teach your child the core principles behind coding using precoding techniques.
• It utilises problem solving and testing through trial and error.
• Progress through the levels will organically teach your child and gradually increase the complexity of the challenges.
• Educational elements are seamlessly integrated into gameplay keeping it fun to play.
• Each pack features different challenges and coding learnings.
• Have up to three different profiles for your children so they can progress at their own speed.
FEATURES
• The app has over 15 levels that are free to play, and additional content can be bought via the Shop in the app.
• Play as Catboy, Owlette or Gekko, and input commands for them to follow.
• Drive the Cat-Car, the Gekko Mobile, and fly the Owl Glider!
• Swim underwater with Gekko, fly through the Sky with Owlette or speed across the City with Catboy.
• Use the PJ Masks powers: Super Cat Leap, Owl Wing Wind, Super Gekko Muscles to get past obstacles!
• Explore the City Canals, the Park, the Sports Field and many more locations!
• Unlock bonus levels to decorate the PJ Masks Birthday cakes or build their hero vehicles.
• Defeat the villains and don't forget to collect the golden stars and amulets!
SAFE AND AD-FREE
PJ Masks™: Hero Academy gives parents peace of mind with:
• Age-appropriate content tailored for 4-7 year olds.
• A safe and secure environment: NO ads!
• Parental gate to stop your little ones making unauthorized purchases
PJ MASKS
PJ Masks is a big favorite with families all around the world. Together the trio of heroes – Catboy, Owlette, and Gekko – embark on action-packed adventures, solving mysteries and learning valuable lessons along the way. Watch out nighttime baddies – the PJ Masks are on their way, into the night to save the day!
ABOUT Entertainment One
Entertainment One (eOne) is a market leader in the creation, distribution, and marketing of award-winning kids' content that connects with families around the world. Inspiring smiles with the world's most beloved characters, from Peppa Pig to PJ Masks, eOne takes dynamic brands all the way from screens to stores.
NOTE TO PARENTS
* This game is free to play, but it contains items that can be purchased for real money. You can turn off this feature by disabling in-app purchases in your device's settings.
SUPPORT
For the best performance, we recommend Android 5 and above
CONTACT US
Feedback or questions? We'd love to hear from you.
Email us at
[email protected]
MORE INFORMATION
Privacy Policy: https://www.pjmasks.com/privacy-policy/
Terms of Use: https://www.pjmasks.com/terms-and-conditions/
More Information: https://www.pjmasks.com/apps/
Related Games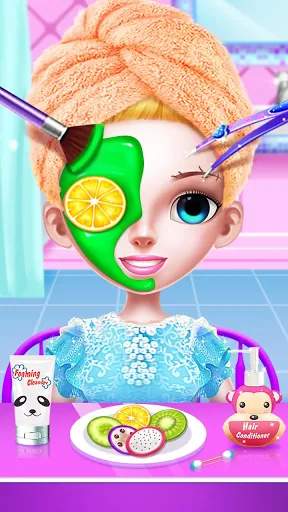 This is a wonderful game for the girls and adults. In this game, you will need to help the princess to be fully prepared for the following wedding party. You can do a lot of things for the princess. The first important thing is that you need to help do some makeup. You need to remove all pimples, dark circles and do her hair, and then lay the cream on the face. To help somebody…
23 Sep,2020 This is a really relaxing game. You will have a great adventure with Bino. On your journey, you will come across a lot of surprises. Bino will bring you back to your childhood time. Together you will complete different types of legendary missions. But your main task is to rescue the princess. Of course, it is not an easy mission. You will face many unexpected challenges. And yo…
23 Sep,2020