Edit Notes
This is a very popular game around the world. Actually, this is a rather challenging game. In the meantime, it is also very interesting to play this game because of its artistic graphics. It is a visual feast to play this game, because you will find that the graphics are impossibly gorgeous and exquisite. No two stages look like the same. And even within the same stage, the feeling is also different because the whole structure keeps changing from time to time. Every screenshot is a masterpiece. And in the later stages, you will come across something like a music box. The whole scene is magnificent and sublime when it unfolds and moves as you push things around. The music is also outstanding. As for the gameplay, it is not that kind of difficult for you to master relative skills. You can complete all the tasks with one finger. You will have enough time to enjoy the sights, the sounds, and the background story. You will play as the silent princess who will navigate through ten levels. And you must use your ability to turn certain parts of the stage or to rotate the perspective to find the path upward. Here it is a wrong thing to always trust your eyes. Sometimes what you see is misleading even though things appear to be three-dimensional. This game can keep both your eyes and ears interested at the same time. And it is definitely worthwhile for you to put on the headphones while you are playing this game. Many players think that the background story of this game is a little bit subdued. But this is not a big deal. If you are one of the fans of experience-focused games, you will know that you should pick up this game right this minute. It will definitely be a great feast for your senses. You will feel that everything is mysterious. The vague atmosphere of this game will keep attracting your attention. So even though sometimes you find that things get really frustrating, it is definitely worthwhile for you to take some time and figure out the puzzle on your own. If you are patient enough, you will get the beauty of this game sooner or later. This game is different from traditional puzzle games. It will definitely give you a totally different game experience when you realize that the angular walls can actually become navigable pathways. And it is a rather intoxicating game because of the creative levels. You just want to move forward out of curiosity. As you move from structure to structure, the angry crow people will block your way forward. But you will find your own way forward. And each level is somehow become more engaging and beautiful than the last. But you must believe in yourself that you will get to the heart of the valley if you want to find the ultimate secret. This is a very short game. At the end of the game, you will feel dazed because you would like the story to continue. But it is definitely worthwhile for you to spend a couple of hours in this world to explore impossible buildings and feel that kind of tangible tingle of excitement. There are only ten levels. But it is really exciting to play this short game. It is just like tasting a box of chocolates. And you will never know what kind of flavor you will get next. Of course, at first, the puzzles are rather easy. But as you progress through the game, you will find that everything becomes tricky and you need to think more carefully before you make your next move. The good news is that there is no scoreboard, no time limit or any other signals related to achievement. The main aim of this game is to provide players a decent challenge!
Promotional Video/Screenshot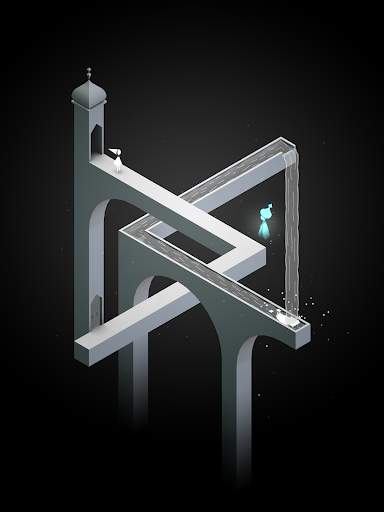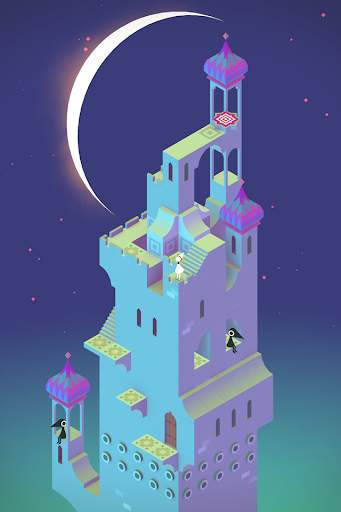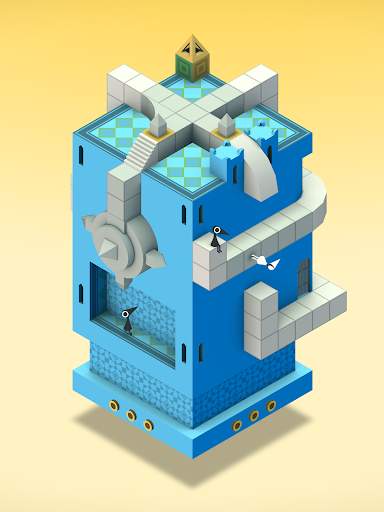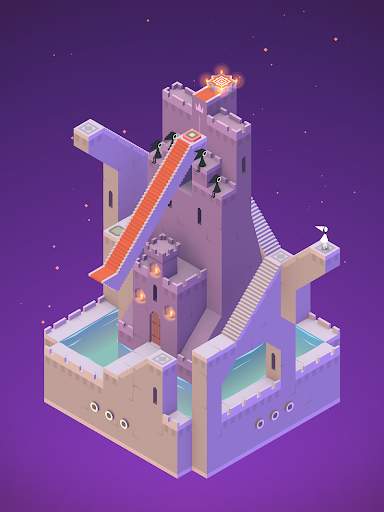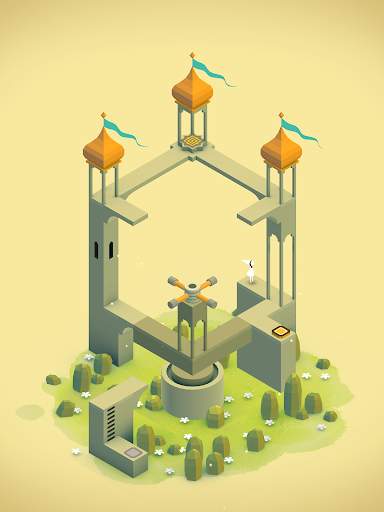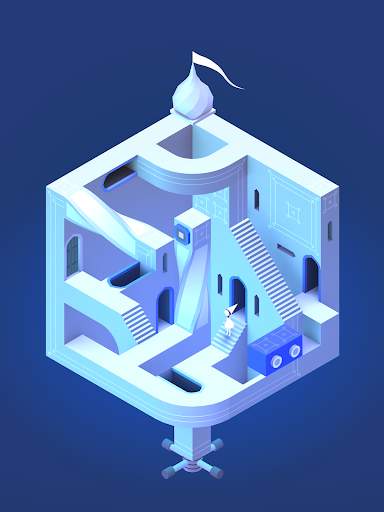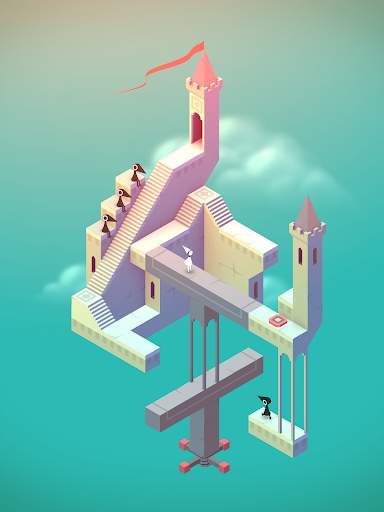 Get the game
Description
In Monument Valley you will manipulate impossible architecture and guide a silent princess through a stunningly beautiful world.

Monument Valley is a surreal exploration through fantastical architecture and impossible geometry. Guide the silent princess Ida through mysterious monuments, uncovering hidden paths, unfolding optical illusions and outsmarting the enigmatic Crow People.

Ida's Dream now available.

Forgotten Shores: Eight new chapters of adventure and illusion available now as a separate purchase.

=======

"One of the very finest hours, and the value of such a thing is incalculable" - Kotaku

"Brilliant design... stayed with me like a dream I didn't want to forget... 9/10" - Polygon

"Monument Valley stuns with its serenity... each screen is a work of art" - Huffington Post

"Almost impossibly gorgeous... a feast for your senses... 5/5" - Touch Arcade

=======

BEAUTIFUL

Inspired by minimalist 3D design, optical illusions and palaces and temples from around the world, every monument is a unique, hand-crafted world to explore.

EASY TO USE

Twist and drag to reshape the world and help Ida to explore. Designed to be easy for everyone to pick up, enjoy and complete.

SOUND

Audio reacts to your manipulation of the world to provide a surreal and beautiful soundscape. Best experienced with headphones.

CLOUD SAVE

Synchronize your game across all your devices.

TABLET SUPPORT

Monument Valley is optimised for both tablets and phones.
Related Games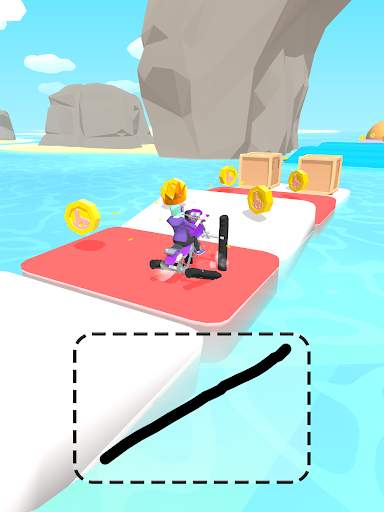 This is a rather interesting game. You will drive a vehicle to arrive at a given destination. The thing is that it is different from the normal vehicle-driving game that you have experienced. Actually, in this game the vehicle will go forward automatically. Your main job is to give it suitable wheels under different kinds of situations, which means that your vehicle will not al…
23 Sep,2020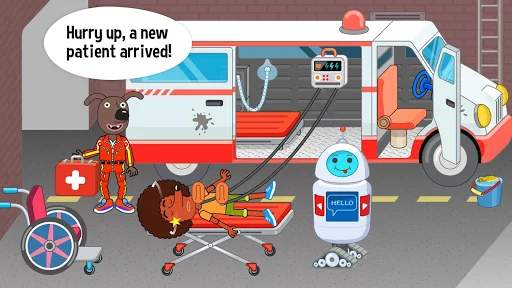 In this game, you will have the chance to be a doctor. It feels so good to take the temperature for the patients and help themalleviate their pain. It is also your job to advise patients under different health conditions to choose proper exercises. It feels so nice to help these characters. But if you would like to, you can also just be a patient. Or if it is too overwhelming …
4 Nov,2020