Advertisement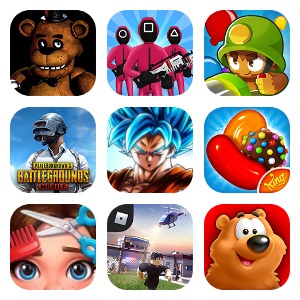 Edit Notes
Welcome into the world of sharks! This is an interesting game. Your mission is to try every means to raise a little shark. He will grow up gradually. During this process, he will be attacked by all kinds of other stronger sharks. So what you need to do is to protect this little shark until he becomes huge enough to defend himself. So stay in safety and try to avoid being devoured by other sharks is your main task. Sometimes your little shark also needs to deal with the moving submarine. The secret is that submarines can only be destroyed when you boost its front. You have to be quick, though, because it would fire some shots if you move too slowly! Another advice for you is to get more coins and gems to buy baby sharks. You can get free coins and gems from the game by viewing the official Hungry Shark plush toy and watching the trailers. And Big Daddy is the best shark which can help you get both coins and gems and even scores. If you want to win more coins, you can aim for para sailors, harpoon men and fishing boats. You can also try other objects. At last, you need to make the most of gold rush. When you get the highest score or when your gold rush bar is full. You will enter into the gold rush mode. In this mode, you will be invincible. So you can run into any objects to win more coins, which is usually impossible because once you run into other objects without any protection, which will be the end of the game. And the exact duration of the special ability depends on the variety of shark you are using. So make sure that you move around quickly enough and eat everything in sight as soon as possible, while avoiding dead ends and long tunnels while you won't have much opportunity to eat a lot before the special effect fades. Generally speaking, this is an exciting game. It is wonderful to guide a shark to swim under the ocean and try to be the survivor. Of course, it is not easy to protect the shark and let him grow up safely. But it is even more wonderful to explore this amazing underground world with your own shark. Everything will be out of your imagination!
Promotional Video/Screenshot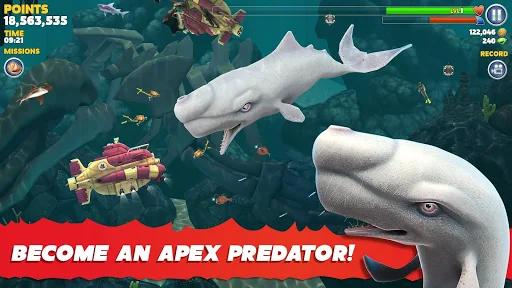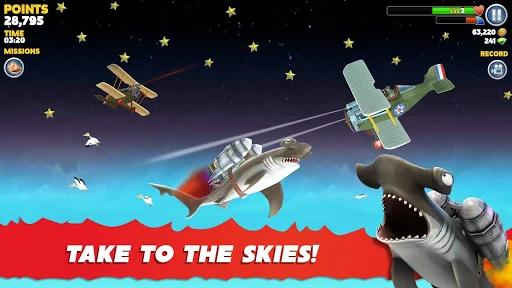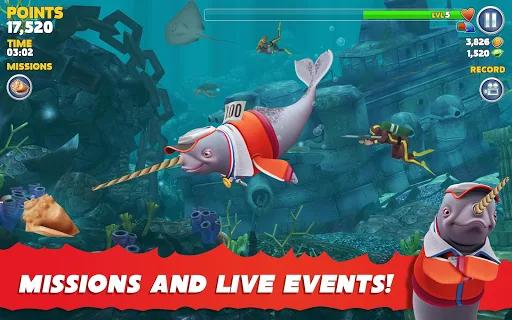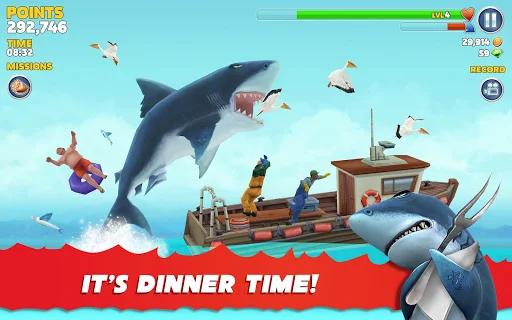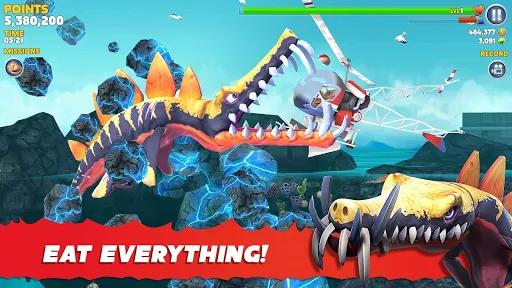 Description
Hungry Shark Evolution is the Official game for Shark Week - live every week like it's Shark Week! Download now free.

Get ready to enjoy the best animal game, You can even play offline! Stop looking for 3d games, this action shark simulator is for you! Are you ready to have lots of fun?

Take control of a very Hungry Shark (not a mammal, but a fish) and go on a frantic ocean rampage, surviving as long as possible by eating everything and everyone in your way! Explore a beautiful underwater world and evolve iconic sharks like the Great White and Megalodon! The monster has been unleashed… and it has monstrous 3D jaws to bite. Forget about other games, this is so cool!

In this action-packed aquatic animal adventure game you can:
• Swim like a shark, jump like a shark, eat like a shark… And have fun!
• Unlock more than a dozen unique sharks and other fintastic creatures. Become a Megalodon or a Great White!
• Explore an open world both above and below the waves
• Enjoy jawsome 3D graphics and sound effects
• Discover and devour mysterious creatures of the deep, like blue whales, and the surface, like birds or… You know.
• Recruit Baby Sharks to boost your predatory powers
• Equip awesome top accessories like Lasers, Jetpacks and Top Hats! Isn't it cool?
• Find and collect sunken Bonus Objects
• Sink your teeth into loads of challenging missions
• Activate Gold Rush to survive longer and score higher
• Take part in regular in-game events and win limited edition prizes
• Attack / bite with intuitive touch or tilt controls
• Play offline wherever you are – no Wi-Fi, Internet connection or data needed! Action is everywhere
• Synchronize your game easily across Android devices


Have fun and dive into a beautiful 3D aquatic adventure! Experience life as a shark chowing down on fantastic sea creatures, from the bottom of the shark food chain to massive predators that defy extinction!

Game overview:
• Reclaim the ocean as a very Hungry Shark: Take control of a very Hungry Shark in this aquatic 3D action adventure. Evolve and survive as long as possible by eating everything and everyone in your path
• Unlike other games, here you have more than 12 sharks to upgrade: Grow and evolve your creature to be bigger and better. Level up with 3 attributes that increase as you go
• Rise to the challenge: Compete on the leaderboards. Try to beat the high scores of your rivals from around the world
• They're going to need a bigger boat: Fight for survival against huge bosses and other dangers of the deep. Shark finners, toxic waste, rocket firing submarines and even a friggin' Giant Crab!
• Gotta get them all! Each shark has a set of missions to master, as well as hidden objects to find dotted around the map
• No Internet connection? No problem, you can play offline, no Wi-Fi needed

Hungry Shark Evolution contains In-App Purchases which allow you to buy Gem and Coin currency which can be spent on upgrades and accessories. Gems and Coins can also be collected in game without requiring purchase, or by watching video advertisements from the Treasure screen.
The game contains advertising.
Advertising is disabled if you make any purchase in the game.

Need support? Have some feedback? Contact us: https://support.ubi.com

Forget about other offline animal 3D free games. This is the best simulator. Are you having fun? Have you fed the monster? Be careful, the Megalodon bites… But it's cool! Evolve the ultimate predator.
Related news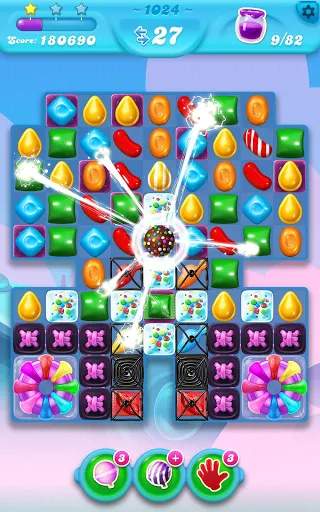 This is a mouth-watering puzzle game. It is very likely for you to become addicted to it. All the candies are so delicious. And the soda crashes are so amazing! Maybe you do not have too much confidence in yourself in terms of playing puzzle games. But you should try this game, because it will give you a totally different game experience. The graphics in this game are so full o…
14 Nov,2020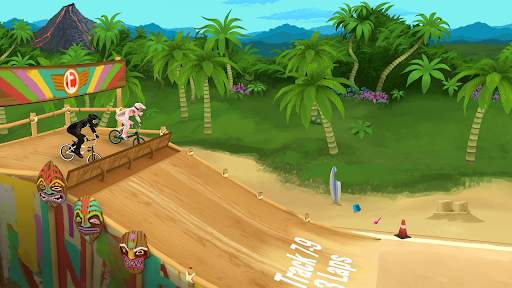 Many players around the world has been waiting for this game for a very long time. And finally, this game is available now. It has been installed more than 40 million times around the world by action sports enthusiast, professional athletes and other players who like bicycles. This is the common side-scrolling racing game as you have experienced, but it is really wonderful to r…
23 Sep,2020