Edit Notes
Everyone has a similar experience of playing slingshot. But in this game, you will have a totally different experience. You will have the chance to launch a car from a slingshot. Amazing, right? The whole process is really crazy! So you must be brave and fearless. To be an excellent player, it is very important for you to learn to adjust the strength of the slingshot. Under different circumstances, you need to make corresponding adjustment. It does not always mean that the tighter, the better. It is also very important for you to choose the right direction before you release your slingshot. And if you have done all the preparation work perfectly, you can just sit back and watch your car flying and bouncing around and reaching the target. The thing you should know is that the tracks are not always flat. Sometimes the roads can get really twisted. So it requires you to have a better mental preparation beforehand. So as you can see, all you need to do in this game is rather simple. You just need to try your best to land the car in the marked spot. Of course, it is not easy. But it is a very interesting thing for you to complete these tasks by trying again and again. And with the coins collected on your journey, you can buy some awesome upgrades. It is definitely worthwhile for you to upgrade your slingshot power so that your initial speed will get higher. And it is also necessary for you to upgrade the engine, so the cars can run faster. The most exciting news is that you can even have a chance to get a bonus. Anyway, this is a rather creative game. You can have a lot of fun by playing this game. If you are a car lover, it will be a pity not to try this distinctive car game. Of course, you cannot drive all these cars by yourself. But it is definitely an amazing experience to launch these cars into the target with a slingshot. There is no reason for you to miss such a golden opportunity to try some different car games. At the beginning, things maybe a little bit challenging. But once you try for yourself some time and if you are patient, you will find your own way to launch these cars into the target. Sometimes you may have difficulty in pulling the slingshot to a proper distance. So your car may get too far away from the target out of this or that factor. And sometimes the road condition is really out of your expectation. You may wonder how can I launch the car into the right target when I cannot even see my destination? But this is an amazing point of this game. So you can try by following your instinct for the first time, which can help get a clear picture of what may happen ahead. It can help you launch your car into the right target for the next time. And after you get really skilled enough, you will find that it is so amazing to launch your car to the right target by using a slingshot. Actually, this is a very imaginative game. There are a lot of contents included in this game. It will eradicate all your old ideas about slingshot games or car games. You will find that a slingshot can also launch a car into the sky. The whole process is so amazing. The trajectory is so beautiful. Sometimes you watch your car dropping down to the bottom of a river or falling down from the bridge and there is nothing you can do about it. It is a disappointing thing. Some may even feel scared. But after you master all the skills and you can successfully launch your car in the right target, you will feel overwhelmingly happy!
Promotional Video/Screenshot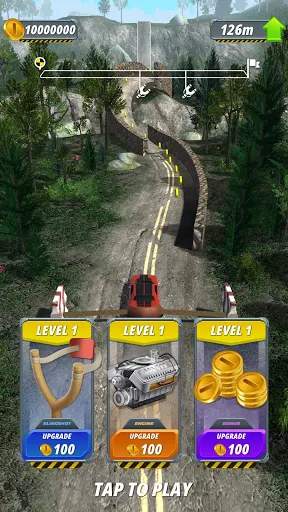 Description
This is it: 2020! This is what it all led to! All of the driving, jumping, car smashing, stunts and crazy shenanigans - this is where it all ends...

Are you a brave enough stunt driver? a crazy enough stunt driver? a fearless enough stunt driver to SEND A CAR FLYING OFF A SLING SHOT?

Are you the #1 stuntman of 2020?

We bet you are!

In this awesome, one-of-a-kind driver arcade experience you will be able to:

- Adjust the strength of the sling shot
- Choose a jumping direction
- Watch your car jumping, flying, bouncing around until it goes smashing into the target...

… but only if you're a skilled enough driver!

Aim carefully & try to land in the marked spot! For the coins you collect in each stunt you can buy awesome upgrades:

- Sling shot power: faster driving = further flying!
- Engine: for driving faster
- Bonus: earn more money for future stuntman jumping

The further you get, the more challenging the terrain becomes and the more carefully you have to aim your jumping.

2020 isn't the year for casual car jumping
2020 isn't the year for silly, stuntman flying
What's that? You just want to drift? Seriously, drift? Watch me drift off to sleep. You know what else drifts? Dead pieces of wood.
2020 is the year of the sling shot. Sling your car into the air, stuntman.
Sling it far you awesome driver.
Sling it smashing into your target.
Be the # stuntman driver of 2020.

This is the best driving game of 2020 - and the craziest of all time.
Related news Many players around the world has been waiting for this game for a very long time. And finally, this game is available now. It has been installed more than 40 million times around the world by action sports enthusiast, professional athletes and other players who like bicycles. This is the common side-scrolling racing game as you have experienced, but it is really wonderful to r…
23 Sep,2020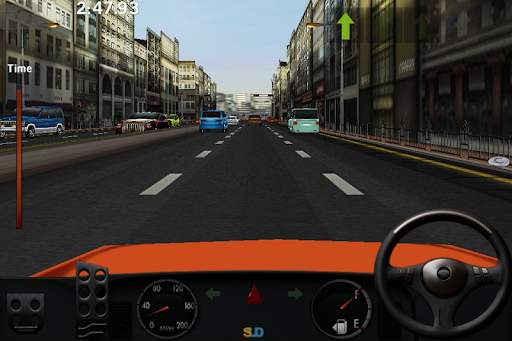 This is a very popular driving game around the world. It is totally for free. You can both play it on your cellphone or on your computer. And you can play it anywhere. There is no restrictive rules in this game. If you are a really experienced driver in real life, this game will not be a challenge for you. If you are a child who has only zero experience in driving, this game ca…
23 Sep,2020