Edit Notes
Do you know that talking Tom's new candy shop has been robbed! This is a really bad news. Talking Tom is also very sad. So if you want to help Talking Tom and get the candy back, you are going to have to run as fast as you can. You will have an amazing new endless runner adventure. When you are running. You will find that the candies are everywhere. The robber is dropping them at the beach, at the amusement park and even along the street. Besides, you can collect coins, power- ups, and plenty of candies! The whole game smells like sweet candies. Of course, you can also choose your favorite character and run, jump and slide. Besides, all the levels in this game are full of exciting obstacles. At the help of the special abilities of Talking Tom, you should try your best to unlock new worlds and get part of the candies back! If you come across some difficult obstacles, you can get help from your buddies. You can ask your friends to share with you some power-ups, including dragon, unicorn, smiley face and happy cloud. But if there is no one for you to turn to, you can also make Talking Tom fly and activate Talking Angela to turn the current obstacles into candies. Anyway, this game is composed of nothing but an infinite amount of fun. And it is totally free to play and it is really the best choice when you are craving or desiring some delicious candies. So what are you waiting for?
Promotional Video/Screenshot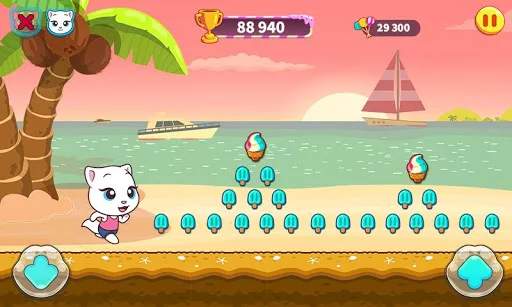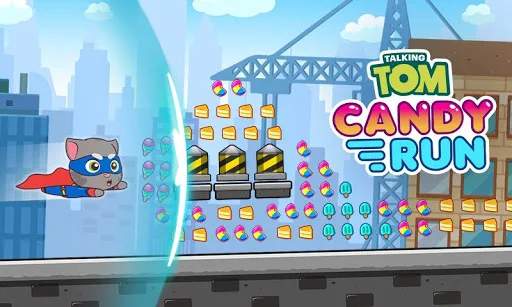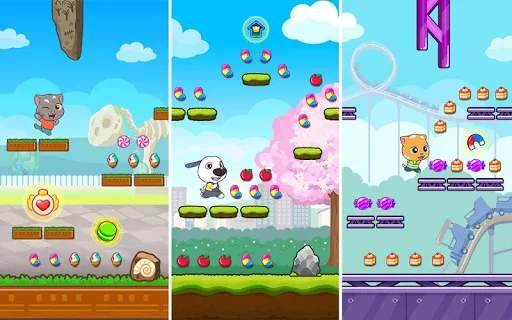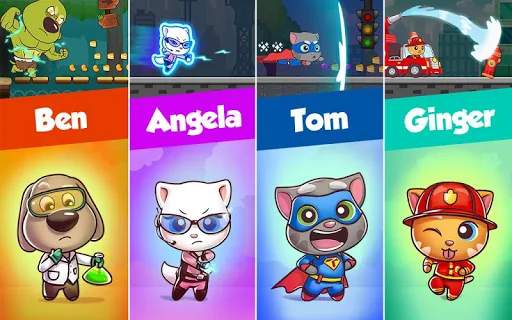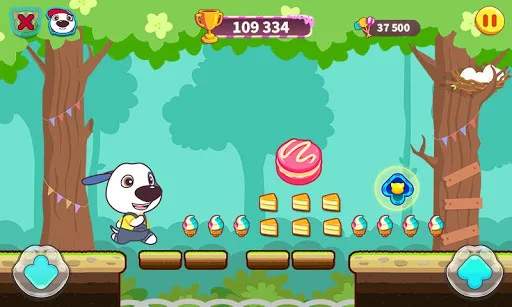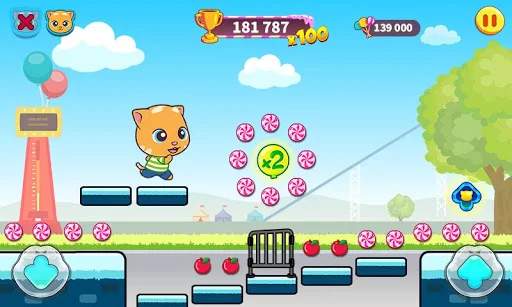 Get the game
Description
Talking Tom's new
candy store has been robbed!
If you want to
get the candy back
, you're going to have to
run
!
An amazing new
endless runner
adventure starts now. The
robber has stolen your candy
, but he
is dropping it everywhere
- along the street, at the beach, even at the amusement park! Choose your favorite Talking Tom and Friends character and get ready to
run, jump, and slide
your way through an epic, candy-filled adventure.
Pick up chests
to get free coins, diamonds, new characters, and character upgrades. Chase after the robber together with fun buddies who will help you with their awesome special abilities.
Now, where's all that candy?
FEATURES:
* Play as one of your favorite characters
* Collect coins, power-ups, and lots and lots of CANDY!
* Run, jump, and slide through levels full of exciting obstacles
* Activate the special abilities of Talking Tom and Friends characters
* Upgrade characters to improve their abilities
* Make Talking Tom fly and Talking Angela turn obstacles into candy
* Get help from your buddies: Unicorn, Dragon, Smiley Face, and Happy Cloud
* Get your candy back and upgrade candy stores to unlock new content!
Talking Tom Candy Run is a top new running game packed with an infinite amount of fun! It's free to play and best to enjoy when you're craving some juicy candy.
This app contains:
- Promotion of Outfit7's products and third party advertising
- Links that direct users to other apps and Outfit7's websites
- Personalization of content to entice users to play the app again
- Watching videos of Outfit7's animated characters via You Tube integration
- The option to make in-app purchases
- Items are available for different prices in virtual currency, depending on the current level reached by the player
- Alternative options to access all functionalities of the app without making any in-app purchase using real money (level progress, games, in-game functionalities, ads)
Terms of use: http://outfit7.com/eula/
EEA privacy policy: https://outfit7.com/privacy/eea/
US privacy policy: https://outfit7.com/privacy/
Rest of the world privacy policy: https://outfit7.com/privacy/
Customer support:
[email protected]
Related Games Welcome into the world of Tom! Tom will never judge you no matter what you do to him. He is always so cute. And he has already waiting for you for a very long time. You can do a lot of things together. Tom is not just some ordinary cat. He is a cat who can make you laugh and who can help you release all of your negative energy. For example, you can say something to him and he w…
23 Sep,2020 This is a really cute game. You will have the chance to collect many adorable Fluffies. It feels so awesome to play with these cute Fluffies. It is very simple for you to play this game. You and your cute Fluffy will drop through a lot of obstacles. You need to control your Fluffy to dodge the obstacles. And you must know beforehand that these obstacles are really dangerous bec…
23 Sep,2020