Edit Notes
This is a really interesting Parkour game. It is very easy for you to play this game. And even if you have no experience in playing similar games, there is no need for you to worry about your skill because there is a tutorial to guide you to master the basics of the game. You can tilt your device to help Fred move toward the side. And if it is possible, it is better for you to try to collect all the gold coins on the side of the hall. Of course, there will be obstacles of all kinds on the way ahead. So you need to help Fred dodge the obstacles. And you can just tap on the right side of the screen to jump and grab the shining coins. It feels really great to collect all the shining coins one by one. And if it is not exciting enough, you can go faster by stepping over the blue accelerator. By taking advantage of the accelerator, you will run really fast. There are many levels in this game. At the end of each level, you will be rewarded abundantly. If your performance is good enough, and if you would like to, you can also try to win more gold coins by watching a video. But it can only duplicate the number of gold coins that you obtained in the county level. It is worthwhile for you to do so if you have enough time, because with all the coins, you can try different things in the shop, including special powers and skills. And you can also buy different outfits for Fred. There are many skills available in the shop, including double jump wall bounce, rubber bones, fast recovery and chicken flap. All these skills will make you feel more happy while you're playing this game. And you can also try all the powers like Afterburner, Shield, Safety Spring and Panic Power. And with all the coins, you can win the priority to enter into different worlds. There are Endless Cave, Grisly Manor, Value Pack and Danger Caves. In each world, you will find new things and different experiences. So try your best to collect as many gold coins as possible. And you will never regret for doing it. At the end of each level, you can always try to play the next level or you can choose the play the same level again. Maybe you might wonder why bother to play the same level again and again? But believe me, you will definitely want to retry the same level because the obstacles like the moving hammer and flying cars are really amazing. And sometimes you just want to challenge yourself and see if you can conquer a certain obstacle by solely depending on your own strength, but not on chance. So generally speaking, this is a really wonderful game. If you would like to, you can try to compete with your friends and see who can get more coins. It is also a great challenge for your reaction speed and for your concentration ability. By entering into this world, you can have a really happy time with your friends and forget everything else. You will feel, for the first time, that all the noises in your head stop and everything is so amazing. You will just feel that the world is so silent. And what you need to do is to rush forward with Fred. And even if you don't know where is the destination or whether or not you can reach your destination, all that does not matter anymore. You just need to rush forward and enjoy unprecedented sense of satisfaction that brought to you by successfully and skillfully avoiding all those obstacles. Be free!
Promotional Video/Screenshot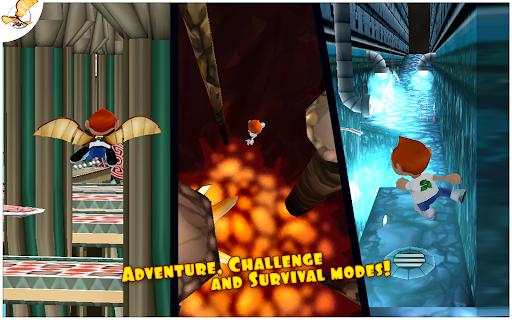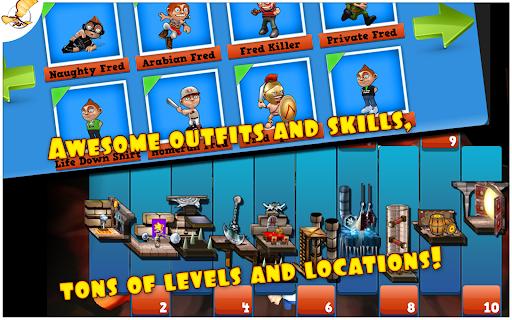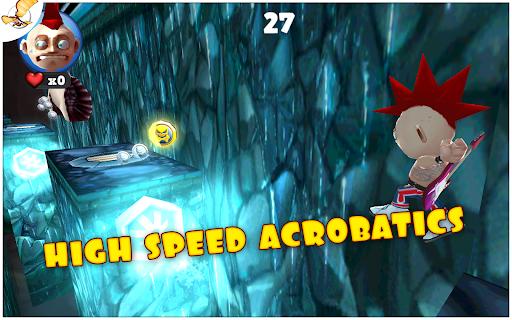 Get the game
Description
The anticipated sequel to Falling Fred is here!

Fred is back with a new host of painful antics, awesome acrobatic/desperate moves, special items and uber-cool locations.

Take control of our hapless hero as he pursues his quest to remain among the living! Running Fred combines ludicrously natural controls and furiously paced action with the shameless buckets of gore praised on its prequel, making up a fantastic third person platformer unparalleled on mobile devices!

Main Features:

- Lots of acrobatic maneuvers
- Dozens of perilous traps
- Multiple game modes: Adventure, Challenge and our favourite Endless Survival!
- Tons of special skills and perks
- Lot of characters to choose from!
- Pimp up your character with special outfits
- Keep your progress across all your devices

What reviewers say:

"New Running Game With Unexpected Gore Thrill Your Nerves" – AppEggs.com

"Running Fred is an excellent game with lots of things to do. It's free and I highly recommend it." - App'd Up

"Bloody Brilliant!" - iFanzine

"The sheer amount of content, replayability and fun that comes from deftly avoiding trap after trap is phenomenal" - AppSpy

"For gamers who like runner-games, this game is easily a 5 out of 5 stars game" - fabela-imag

"Those who love Falling Fred, just love the running Fred, the anticipated sequel to Falling Fred." - Best10App

What's new in this new version:

- New character with a fully functional jetpack!

More levels and cool stuff is coming. Keep your game updated!
Related Games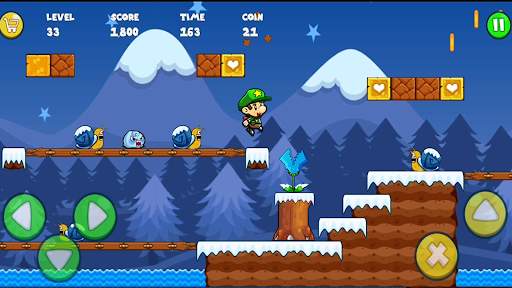 This game will bring you back to your childhood time. You will have a really wonderful time with Lep. Since the princess has been abducted and brought into the jungle, Bob's world becomes dark day by day. He had no choice but to rescue the princess no matter what price he may pay for. So the adventure begins. Of course, it is not very easy for Bob to complete this mission on hi…
23 Sep,2020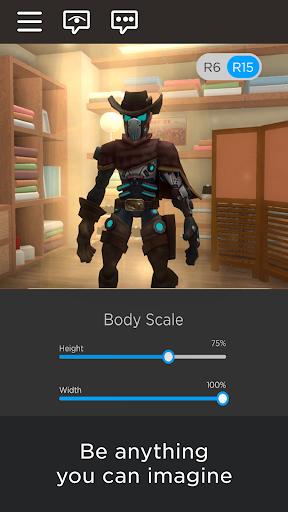 This is a game which combines many different contents including shooting, RPG and other racing competitions etc. In this game, you can design the outfit for your character. Besides, you can also choose the proper appearance for them. There are different types of hats, shorts and accessories for you to choose. You can buy the perfect outfit for your character in the store with v…
23 Sep,2020