Advertisement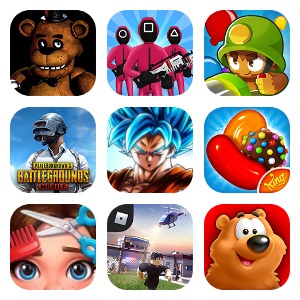 Edit Notes
This game is perfect for all players who like to decorate things and beautify their favorite Barbie figure. In this game, you will meet a pretty girl named Angela who cares a lot about her appearance. So you need to buy all kinds of cute clothes for Angela and dress up Angela in the most fashionable way. If it is possible, you can also design amazing hairstyles for her. Besides, it is also very important for you to buy a big house for her and decorate the house in an ideal way. And she would be thrilled if you can buy treats for her. Just use your imagination and make her comfortable and she will be your best friend. It is great to have a friend like Angela who is not only pretty in appearance but also kind in her heart. She would like to listen to all of your troubles without judging you. You can also play this game with your best friend to make Angela become the most elegant girl in the world. It is also wonderful to collect cool stickers and make trades with your friend. Anyway, it is not hard to play this game in terms of skill, but you need to use all your knowledge about making-up and dressing-up to make Angela a superstar. Once you do this, she would be in a good emotional state and be willing to repeat whatever you said. Of course, her voice is also very sweet and you will fall in love with it. Welcome into gorgeous Angela's world!
Promotional Video/Screenshot Description
Talking Angela is a virtual pet with a style the whole family can enjoy!
- Players can bathe her, decorate her home and feed her delicious food.
- Angela has a variety of mini games designed to test skill, reflexes and puzzle solving ability.
- Players can collect stylish stickers to collect and swap with other players.
- Angela can select unique outfits from a huge selection of fashion items, including dresses, shoes and makeup. A new makeover whenever she wants!
- She can even learn cool dance moves to her favorite songs. Whether it's ballet, K-pop or disco - Angela takes to the stage and makes some magic!
DOWNLOAD FOR FREE AND START PLAYING MY TALKING ANGELA NOW! MAKE HER A SUPERSTAR!
This app is PRIVO certified. The PRIVO safe harbor seal indicates Outfit7 Limited has established COPPA compliant privacy practices to protect your child's personal information. Our apps do not allow younger children to share their information.
My Talking Angela offers users an exclusive monthly subscription, allowing access to exclusive additional gameplay features, as an optional in-app purchase.
The Captain Cute monthly subscription – which offers the Captain Cute outfit, the option to resume playing 4x per mini-game session, and unlimited energy for playing mini-games – is priced at $4.99 per month.
Payment will be charged to your Google Play account at the confirmation of purchase. The subscription automatically renews every month unless it is canceled any time before the end of the current subscription period. When you cancel your subscription, the cancellation will apply from the next subscription period onwards. You can manage and cancel your subscriptions by going to your Google Play Account settings after purchase. Please note that deleting the app does not result in cancellation of your subscription.
This app contains:
- Promotion of Outfit7's products and advertising
- Links that direct users to other apps and Outfit7's websites
- Personalization of content to entice users to play the app again
- Watching videos of Outfit7's animated characters via YouTube integration
- Items are available for different prices in virtual currency, depending on the current level reached by the player
- Alternative options to access all functionalities of the app without making any in-app purchase using real money (level progress, games, in-game functionalities, ads)
Terms of use: http://outfit7.com/eula/
EEA privacy policy: https://outfit7.com/privacy/eea/
US privacy policy: https://outfit7.com/privacy/
Rest of the world privacy policy: https://outfit7.com/privacy/
Customer support:
[email protected]
Related news When we were a kid, it is very easy for us to be satisfied and to be happy all the time. But as we grow up, it seems that we are always gloomy in our inner world even if we smile all day towards different kinds of people to show our politeness and respect. But this game will give you an opportunity to take off all of your masks and be a child again. This is a really interesting…
23 Sep,2020 Welcome to the quiet and sweet town of Newbury. This small town is haunted by ghosts. So it is your mission to hunt down all those ghosts and bring peace to those villagers again. The most distinctive feature of this game is that it applies the AR technology. So all your outfit, your pets and all the ghosts in this game are more real to you. And you feel like your phone is the …
23 Sep,2020