Edit Notes
In this game, you will be a really awesome hero. And your main job is to protect your city. There are several heroic figures available for you to choose. So you will have the chance to be your favorite hero flying across the city under a starry night and protecting your city. It is a really cool thing. But it is not just for playing. You need to collect as many balls as possible. And even if you could, you must be aware of those vicious villains. They are violent and they will take every means to disturb you from doing your job. And your final score depends on the number of the balls that you can collect. And even if you can collect as many balls as possible, if you cannot successfully avoid the disturbance from those villains, there is no way for you to get a relatively higher score. But the wonderful news is that if you can collect all the colorful amulets flying in the sky, you can stimulate your superpower, which can help you collect a lot of balls in the blink of an eye. So you must always keep concentrating and keep alert to collect balls while fighting against the enemies. This is a great test for your hand-mind coordination ability. Although this is a very challenging game, there is no age limit. In this game, no matter how old you are, you will find your own pleasure. And you will find that exciting feeling while you are fighting against those pesky villains. And there are more than 500 different levels containing different tasks for you to experience and all the tasks in different levels will require you to release different superpowers. For example, you can explode the PJ mask City; or you can collect the missing items. Everything in this game is so exciting and so thrilling. It is not very easy for you to win all the three stars for each level. So you must try your best. But as long as you can perfectly control your balance and avoid those obstacles in time. Things will not be very tricky for you. There is a huge chance that you can win all the three stars for each level. And you can find a way to successfully help the city regain its freedom. So what are you still waiting for? Just put over your mask and be the invisible hero who is dedicated his life to protecting this city. Although people might not know your true name, but they will remember your glory forever and what you have done for them. Everything is just worth it. So just start your journey right now. And you will find unprecedented happiness by flying across the city and enjoying its beauty while releasing your superpower and saving the city from its destined doom. Things might not always be easy. But you just need to believe in yourself. And then you can eventually change the fate of this city. Wish you luck and enjoy yourself in the world of your dream hero! You will find yourself so amazing!
Promotional Video/Screenshot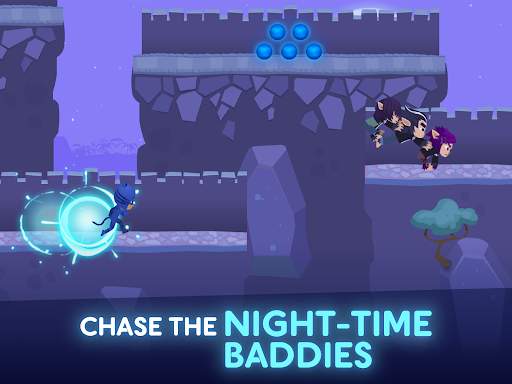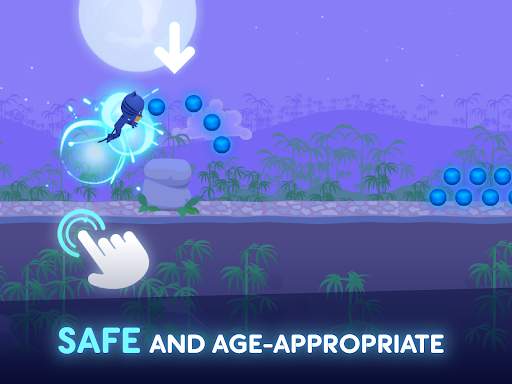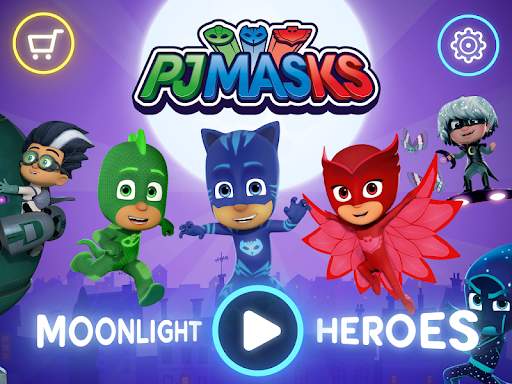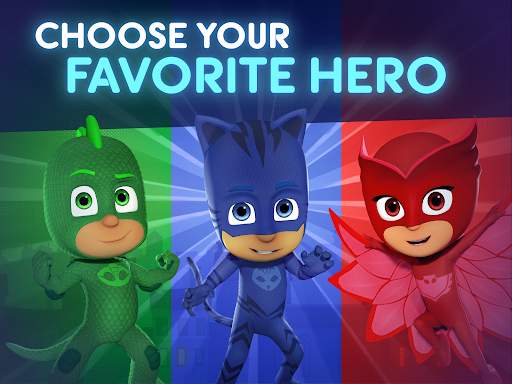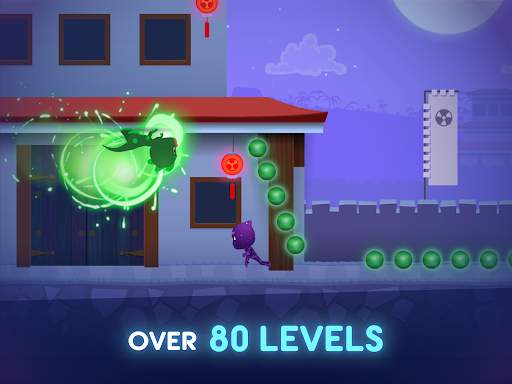 Get the game
Description
Choose your favorite hero character to play with, and journey across the moonlit rooftops and through the night, collecting as many orbs as you can. But beware of those pesky villains, they're up to mischief again!
The PJ Masks are on their way, into the night to save the day!
FEATURES
• The app has 21 levels that are free to play, and additional content can be bought via the Shop in the app.
• Collectable orbs - collect orbs to add to your final score.
• Gold amulets - pick up gold amulets along the way to boost your final score. Make sure you keep your eyes out for them because they're hard to find!
• Hazards - dodge the obstacles the villains are throwing in their way!
CHARACTER POWERUPS
Collect the colored amulets and trigger the heroes' superpowers:
• Catboy – ability to jump higher
• Owlette – ability to see hidden orbs
• Gekko – ability to smash through obstacles
SAFE AND AGE APPROPRIATE
Trusted by millions of families across the globe, PJ Masks: Moonlight Heroes gives parents peace of mind with:
• Age-appropriate content tailored for preschoolers
• A safe and secure environment, with no third-party advertising
• May contain promotional content about other PJ Masks related products and eOne's preschool shows.
• Advertising in the app can be disabled at any point by purchasing additional content in the shop section.
• Parental gate to stop your little ones making unauthorised purchases.
PJ MASKS
PJ Masks is a big favorite with families all around the world. Together the trio of heroes – Catboy, Owlette, and Gekko – embark on action-packed adventures, solving mysteries and learning valuable lessons along the way. Watch out nighttime baddies – the PJ Masks are on their way, into the night to save the day!
ABOUT Entertainment One
Entertainment One (eOne) is a market leader in the creation, distribution, and marketing of award-winning kids' content that connects with families around the world. Inspiring smiles with the world's most beloved characters, from Peppa Pig to PJ Masks, eOne takes dynamic brands all the way from screens to stores.
SUPPORT
For the best performance, we recommend Android 5 and above
CONTACT US
Feedback or questions? We'd love to hear from you.
Email us at
[email protected]
MORE INFORMATION
Privacy Policy: https://www.pjmasks.co.uk/privacy-policy
Terms of Use: https://www.pjmasks.co.uk/terms-and-conditions/
More Information: https://www.pjmasks.co.uk/apps/
Related Games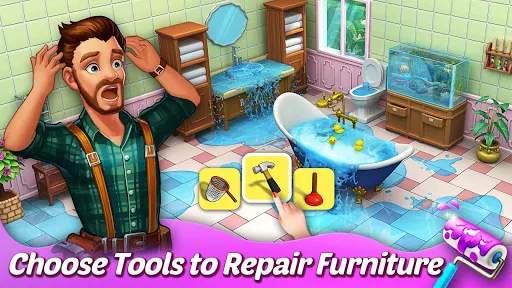 This is a wonderful match-3 puzzle game for parents to play with their children. Together, you can try to solve all those creative puzzles. After finishing one puzzle, you can get the chance to decorate and design your newly acquired mansion. There is no need for you to worry about your house designing skill because you will get a lot of guidance. Maybe sometimes it gets really…
23 Sep,2020 Do you like drawing games? Do you like physics? Do you like to lead a thing to go forward as you planned beforehand? If you answers are positive, you will find all the happiness in this game. What you need to do in this game is very simple. You can just enjoy the wonderful music and fill the empty glass with water. It is not very difficult to play this game. But if you want to …
23 Sep,2020