Edit Notes
This is a wonderful match-3 puzzle game for parents to play with their children. Together, you can try to solve all those creative puzzles. After finishing one puzzle, you can get the chance to decorate and design your newly acquired mansion. There is no need for you to worry about your house designing skill because you will get a lot of guidance. Maybe sometimes it gets really difficult and frustrating. But you should never give up because if you would like to push yourself a little bit harder, you will finish your goal eventually. Anyway, this is a highly playable game. And it will never let you down. So if you would like to keep your mind working and if you want to put everything else behind your mind and do something entertaining, there is no reason for you to miss this distinctive puzzle game. As you can see, it is a very simple game. You can just make a match of three by swapping pillows of the same color. It is a really satisfactory thing to choose your own favorite royal seat once you finish the puzzle. And even if you have already tried other similar puzzle games, you should not miss this one because there are some significant differences. The game feeling is different. And the whole atmosphere is also different. It is not only about having some fun. Besides, playing such kind of puzzle games can help you get to know a lot about home decoration. And it is highly possible for you to form new ideas about decorating your own house in a totally fresh style after you play this game because this is a totally flexible game. You have a lot of choices, no matter in the choosing of the whole style or in deciding the color of any furniture. So these options can give you an opportunity to try different styles. And then you can picture the whole thing beforehand in your mind while you are trying to design your own real house, which can help you save cost and time. Players around the world like this game very much. And it gives them a sense of satisfaction by solving those puzzles and decorating their own mansion. Those thousands of wondrous levels just attract so many players to challenge themselves. If you try it for yourself, you will also want to stay here forever. And the mysterious storyline is also intriguing. Besides, trying to unlock new rooms and buying new furniture and experiencing all those interesting things with those cute characters in the game is also awesome. You can even try to visit your neighbor and appreciate their designing styles to get some new inspirations. It is also very convenient for you to play this game. Even if you have no WiFi or any internet connection, you can still play this game anywhere. So it is time for you to come into this wonderful new world and to design your own mansion and garden by completing all those interesting puzzles. It is time for you to uncover all the secrets behind these puzzles. You will not be alone here. You will have a cat or a puppy as your pet. Your pet will give you a lot of joy when you are busy with your decoration work. If you have some spare time, you can feed your pet and play with it for a while, which will make your pet really happy. So what are you still waiting for? It is time for you to create your own illuminating mansion!
Promotional Video/Screenshot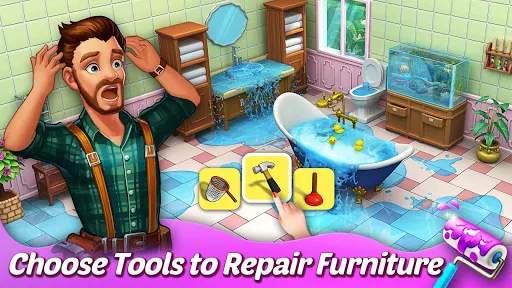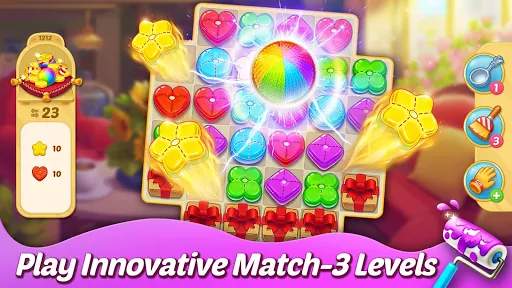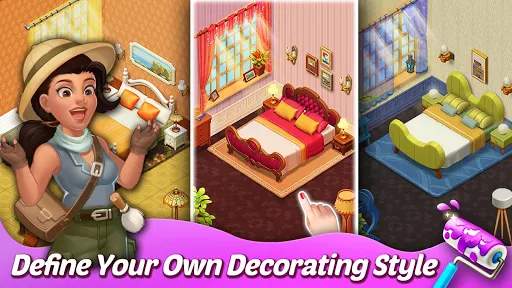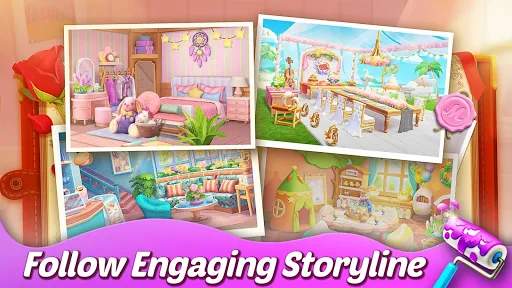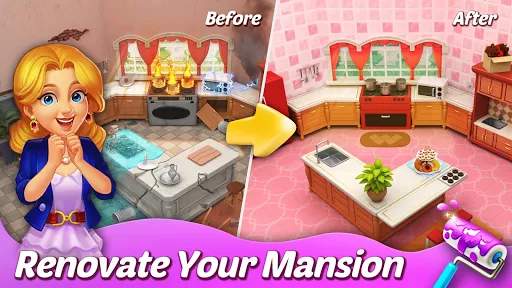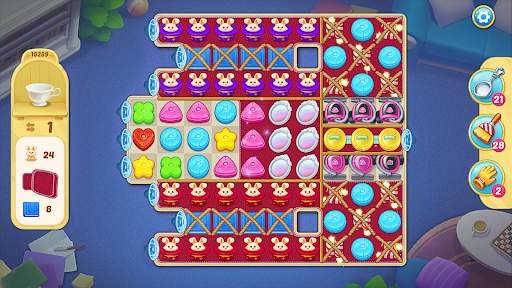 Get the game
Description
Decorate your mansion with a match-3 makeover puzzle game! Design new home decor & furniture by matching candy, power-up with levels and renovate your entire house, including your kitchen & garden. Download Matchington Mansion for match 3 makeover madness!
Match candy and play Matchington Mansion, an adventure filled fun game! Hone your interior design skills while protecting your house from a mischievous cousin, unlock new rooms, renovate your kitchen or garden and discover secrets hidden among the furniture – all with a cast of quirky characters in tow. You can even spy on the neighbors and check out their room design choices. Are you ready to navigate this challenging match-3 home decor puzzle game?
Room Design & Match 3 Makeover Madness: Top 5 Reasons to Download:
Match & swap candy in a fun game to innovatively decorate your mansion!
Secrets, rewards and an intriguing narrative – piece together all the hidden objects & learn new secrets
In-game characters to meet and interact with – follow their interesting stories while you play
Play levels with tons of room design options & thousands of DIY Decorations – unlock hidden areas for rewards
Power-up combos, incredible boosters, and tons of levels in a fun game of matching!
Decorate your mansion, power-up, and deck out your kitchen & garden in style. Unlock hidden areas for rewards, makeover each room with new furniture, and interesting home decor. Puzzle out Matchington Mansion adventure stories with innovative matching gameplay, aided by your friend Tiffany, quirky characters, and a house cat or pet dog along for the ride!
Play Matchington Mansion for FREE, with optional in-game items for purchase. You can turn off the payment feature by disabling in-app purchases in your device's settings.
Download our match-3 adventure puzzle game – the MM team sincerely hopes that you like it! We are working very hard on perfecting it, so if you run into any issues while playing or you have any suggestions, please don't hesitate to reach out to us at
[email protected]
.
More ways to learn about Matchington Mansion:
Facebook: https://www.facebook.com/matchingtonmansion/
or search @Matchington Mansion to follow us.
Related Games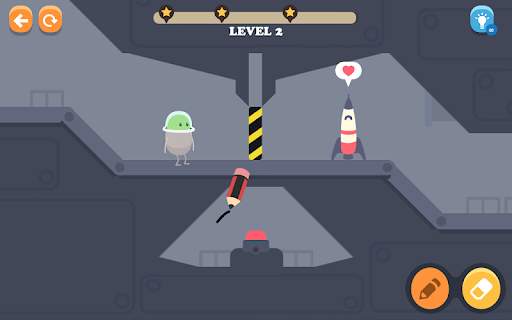 This is a really wonderful game. In this game, you will spend a happy time with our cute Bean. He is not very strong, he is not very clever, but he is always willing to serve you whenever you need him. It is very easy for you to play this game if you like drawing. But you need to be creative because each level is different. You need to think differently to help Bean reach his d…
23 Sep,2020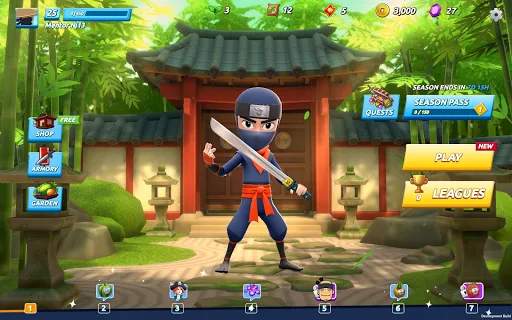 This is a very interesting action game. Although it is very easy to play this game, players around the world love this game so much. If you like Fruit Ninja, you will definitely fall in love with its sequel. So you already know that it is very simple to play this action game since you just need to slice those fruits into pieces as they appear on your screen. Sometimes you will …
18 Feb,2021