Edit Notes
This is a wonderful game in which you can running freely with your family. You will have a great adventure with our cute friend cat Tom who will guide you running across the world. During the road, you will see yourself among the skyscraper, by the beach and villages with typical Chinese characteristic. But remember to collect all the gold coins along your journey. And if you come across the racoon and choose to fight against him, then you will be rewarded extra coins. By the way, you can also unlock Talking Angela and Talking Hank by fighting against the racoon. This will be a wonderful experience. You might get bored easily when you are playing such kind of running game because the gold coins alone cannot motivate you any more when you have no other rewards or other new experiences, but this game is different because in this game, there are different worlds for you to discover as long as you can defeat the racoon boss first. So you will have a lot to expect in the next world. And when you are fighting with the raccoon boss, do not try to show mercy on him because he deserves it. The only thing he does is to destroy and pollute the world. So you just need to be brave and take him down. Talking Tom Hero Dash can provide you with a wholly new experience about parkour game!
Promotional Video/Screenshot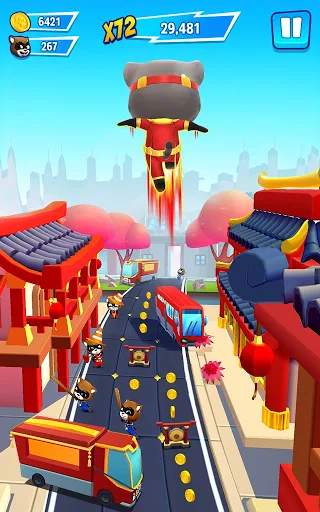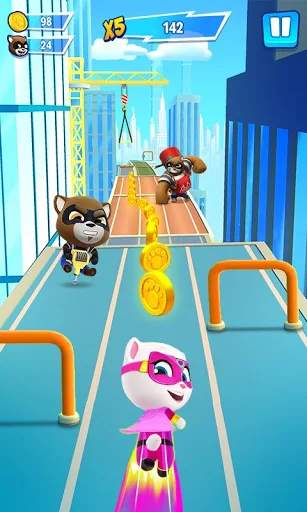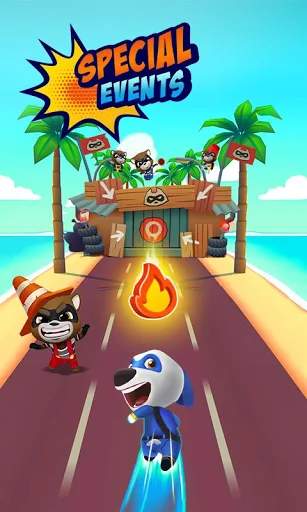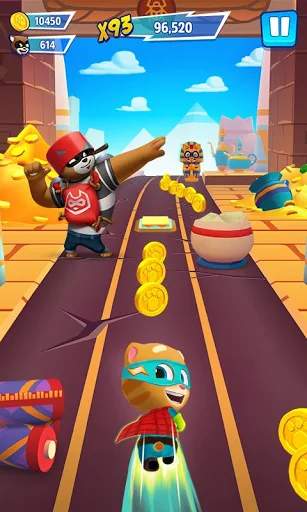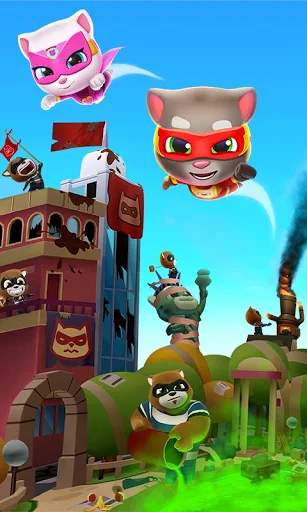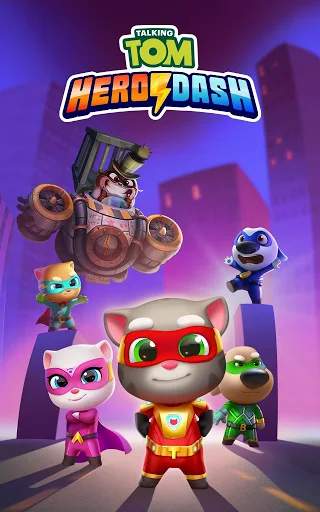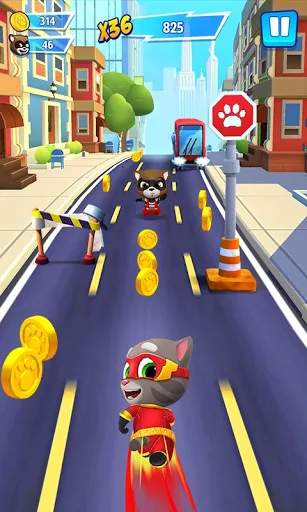 Get the game
Description
One of the most fun endless runner games! Players join Talking Tom and his heroic friends on a mission to run, get gold and rebuild the world! Playing this new action game will make anyone a true superhero!
★ ANYONE CAN BE A SUPERHERO: Talking Tom, Talking Angela and their super friends all have amazing unique superpowers that they can use while running! Players can also try using their high-tech superhero gadgets!
★ DEFEATING RACCOON GANGS: Besides collecting gold coins and avoiding obstacles, hitting raccoons will earn players some extra rewards!
★ RACCOON BOSS FIGHTS: Players can unlock Talking Angela, Talking Hank, Talking Ben, and Talking Ginger by saving them in action-packed Raccoon Boss fights!
★ RUNNING THROUGH AWESOME WORLDS: Players will fight the raccoons among skyscrapers, alongside tropical surf beaches, through Chinese-inspired villages, and in mysterious desert temples.
★ EXCITING STUNTS: In this fun game, each running world is a unique adventure. Players can dash and leap between rooftops, swing on cranes, and run along cruise ships, but they need to watch out for swimming pools!
★ RESCUING AND REBUILDING: Raccoons are destroying and polluting the world and it's up to players to drive them away so that you can clean up and rebuild. Once each location is fixed up, it's time to face the Raccoon Boss. After players defeat him, it's on to the next running world! What's it going to be? A surf beach? Or maybe a temple?
★ UNLOCKING SUPERHERO OUTFITS: Players can unlock heroic runner outfits piece by piece and customize each superhero. Dashing!
★ SPECIAL EVENTS: Explore new ways of playing, and complete missions to earn awesome rewards.
Players who love Talking Tom Gold Run and other running or superhero games are going to want Talking Tom Hero Dash in their collection too!
PLAY FOR FREE!
This app contains:
- Promotion of Outfit7's products and advertising;
- Links that direct customers to Outfit7's websites and other apps;
- Personalization of content to encourage users to play the app again;
- YouTube integration to allow users to watch videos of Outfit7's animated characters;
- The option to make in-app purchases;
- Items to purchase (available in different prices) using virtual currency, depending on the player's progress; and
- Alternative options to access all functionalities of the app without making any in-app purchases using real money.
Terms of use: http://outfit7.com/eula/
EEA privacy policy: https://outfit7.com/privacy/eea/
US privacy policy: https://outfit7.com/privacy/
Rest of the world privacy policy: https://outfit7.com/privacy/
Customer support:
[email protected]
Related Games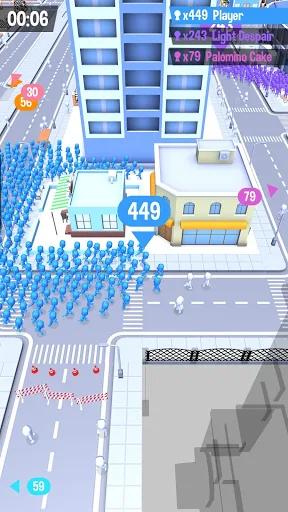 This is a simple casual game, but it is really exciting to play this game because in this game you can control a group of people instead of a certain character. Entering this game, the first thing came into your eyes is a bunch of people who are running aimlessly in the city. And this city is very crowded. There are many teams with different colors. You will be the leader of yo…
23 Sep,2020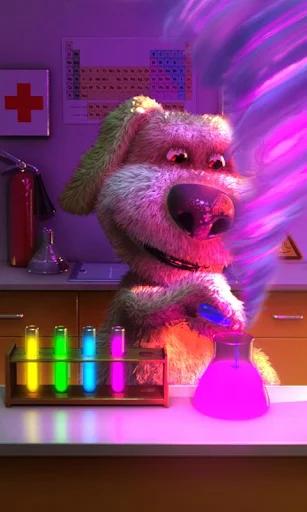 Welcome into the world of Ben. He is a really cute dog. But he is not just any cute dog. Actually, he is a retired chemistry professor. He knows a lot about chemistry and he can tell you numerous things about all those things that you want to know about chemistry. Besides, he is a person of many hobbies. He likes to taste delicious food. So if you can share good food with him, …
23 Sep,2020