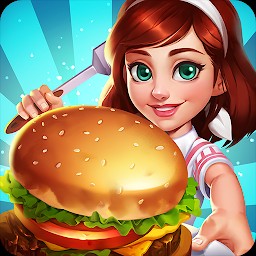 Cooking Joy 2
OS: Android
Version: 4.1
Size: 75M
Developer:ZenLife Games
* For reference, The Cooking Joy 2 game download websites are all approved, there are no viruses and malware.
Edit Notes
This is a really wonderful cooking game. You will have a golden chance to learn to make all kinds of delicious treats for yourself. Maybe in your daily life you are a lover of chips, but you hate to make food for yourself. Actually, cooking is a kind of artistic activity. After you play this game, you will realize that cooking food can be such an amazing thing to do. If you have played similar cooking games, you will find that it is very easy to play this game. The most distinctive feature of this game is that it will give you a chance to learn different types of food in different levels. In other similar cooking games, you just make the same food again and again. But in this game, you will have the chance to learn to make different kinds of foods and beverages in different levels. So it is very easy for you to become addicted to this game because you always want to know what may come next on your menu. Another thing is that the gold coins will be collected automatically. So there is no need for you to take your time to collect all the coins one by one, which means your focus and your attention can be wholly put on your cooking job. The difficult part of this job is that you can not overcook your food. So you must make sure that you will take out the chips as soon as it is done. Otherwise, your chips will be overcooked. And you have no other choice but to throw the burnt food into the dustbin. It is a very bad thing to waste food. And it is definitely not an economical thing for you to better run restaurant. If you keep wasting food because of your cooking mistakes, you will realize that it is really hard for you to make any profit. So you must be careful while you are serving for your customers. Besides, you must follow the rule of "First come; First served". And sometimes you can be clever. For example, you can prepare some fried chips beforehand. So when a customer walks into your restaurant and orders chips, you can just directly serve this customer the already prepared chips. So this customer does not need to wait for a very long time to get his food. But if you fail to serve a certain customer timely, you will find that this customer will become unhappy. In this way, you will lose your chance to make any money out of this order. So it is very important for you to try your best and make each customer happy. The most important thing is that you must pour a lot of warmth and consideration and love when you are preparing food for your customers. Because as you know, there are a lot of restaurants which can make the same food. So you must have this unique advantage to compete with other restaurants in the market. The patience and love are the two key factors for you to make a good reputation for your restaurant. If you would like to be patient and prepare your food with love and patience, you will find that your customers will be fully satisfied. So they would like to visit your restaurant the next time. This will help build a very good image for your restaurant. And this can help you earn a lot of gold coins. Generally speaking, this is a very interesting and relaxing cooking game. There is no need for you to feel pressure while you are playing this game. Although sometimes you will find that there are so many customers waiting for your service and you are just in such a hurry, you should always keep calm and try to entertain each customer by every means. It is actually a very joyful thing to feed these customers and make them feel comfortable. And it is such a satisfying thing to watch them enjoying the food out of your hands. Although other restaurants can also make the similar burgers and chips, you know that the food out of your hands is unique. Sometimes, although you may feel tired, you know for sure that all of your efforts will not be wasted. At the end of each level, if your customers are satisfied with your service, you will get great rewards. In your real life, maybe cooking food is such a tedious thing out of different kinds of reasons. Maybe you think it is time-consuming to cook food. Or maybe you think cooking is such a boring thing. But while you are playing this game, you will find that cooking is actually can be a very soothing activity. Although this is a virtual game, it will bring you into the real world of delicious food. When you are playing this game, the weird thing is that it feels like that you can smell the fragrance of those food. And it makes your mind become so calm while you are cooking. So what are you still waiting for? It is time for you to walk into the cooking world and start your cooking journey. It would be wonderful to learn some cooking skills. You will definitely need them in your daily life to make some delicious food for yourself. If you want to love yourself and better take care of yourself, you should definitely master some wonderful cooking skills. And you definitely deserve this wonderful and unique service!
Promotional Video/Screenshot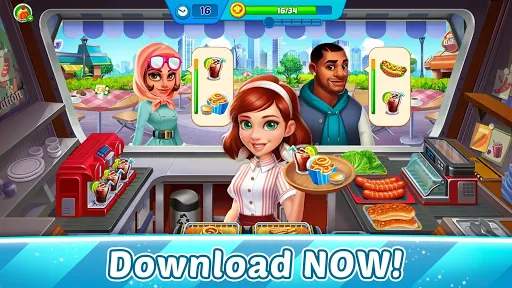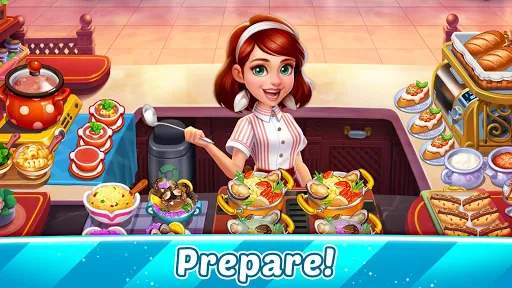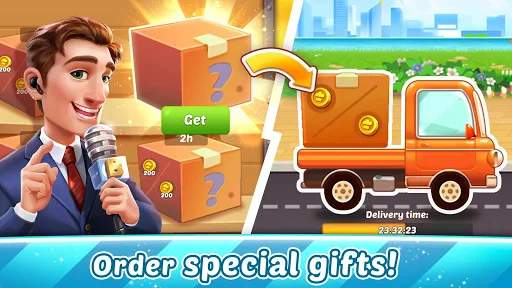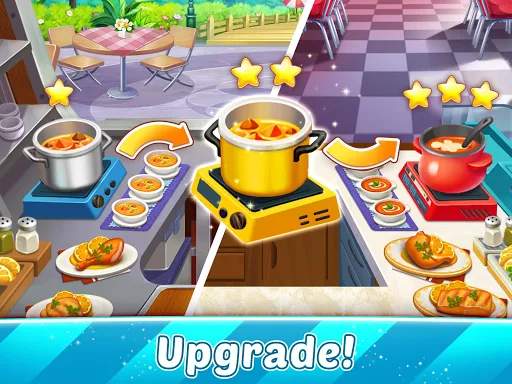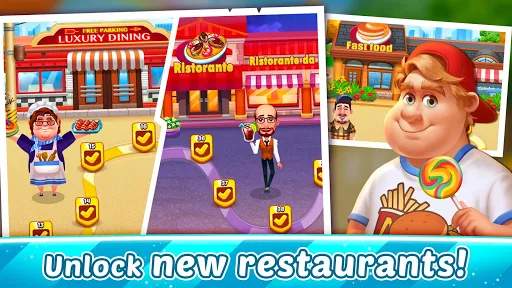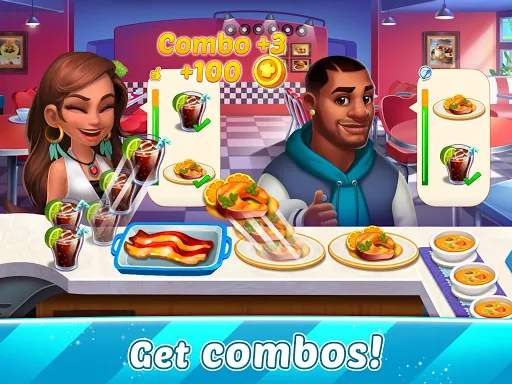 Get the game
Description
Cooking Joy 2 - a new highly addictive cooking game from the team that brought you Cooking Joy, is calling all master chef candidates! Upgraded from Cooking Joy - a fun cooking game, it inherits the same challenging spirit and adds more fun!

If you have always dreamt of becoming a top chef in a crazy cooking game world, then catch the cooking crazy fever with this game! Download NOW and try it for FREE!

Time to get back to the kitchen and enjoy cooking delicious dishes for starving customers again! Show off your overwhelming cooking skills and use your time management expertise wisely to beat some cooking game challenges!

Dash into the madness, craze and fun created by Cooking Joy 2 now! Cook in different kitchens, cafes and restaurants while serving food to customers and learning new cooking skills. Tons of challenging levels are waiting for you in our awesome cooking game!

What makes Cooking Joy 2 more special?

Simple and addictive cooking gameplay!
- Easy to start yet very challenging. Let the lovely waitress cook and serve hungry customers.
- Manage your time cooking tasty dishes and do not burn food!

Amazing restaurants and delicious cuisines await!
- A fun cooking journey full of delicious food to cook and stunning restaurants to unlock.
- Cook hundreds of tasty dishes including burgers, sausages, hot dogs, soups, french fries, etc…
- Serve food to all different types of awesome customers in this crazy cooking game, from an old mama to a hungry boy.

Give yourself a special brainstorming!
- Train your brain by memorizing new cooking recipes.
- Use your time management skills to find the best way to beat cooking levels.
- Enjoy the excitement of time-limited cooking game challenges.

Immerse yourself in the vivid graphics!
- Make your mouth water at the delicious food.
- Delicate graphics will give you the feeling of actually being in the restaurants instead of a cooking game.

Enjoy your time with family and friends!
- Compare cooking skills in-game and see who is the best cooking game master chef!
- Remember to share your cooking success with others!

What are you waiting for? Get ready and dash to the delightful cooking journey! Devote your craze of cooking to serving the best food to your customers! Accomplish your cooking tasks with perfect time management skills in the brand new cooking game - Cooking Joy 2!


Download NOW for FREE! You'll definitely love the fever and craze brought by Cooking Joy 2!
Related Games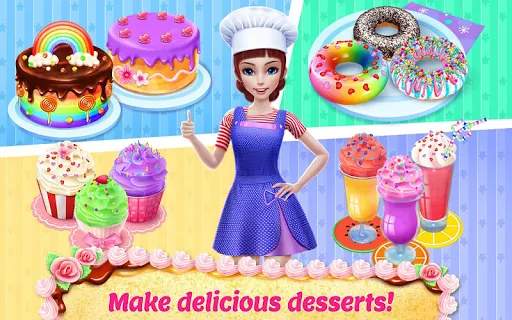 You will finally realize your dream of running your own bakery in this game. It is so exciting to play this game. You can learn to bake all kinds of delicious desserts for yourself. The whole big screen is full of sweetness. And this is your own bakery. You are the only boss here. You will feel a sense of achievement when you are welcoming your first customer. The first step is…
14 Nov,2020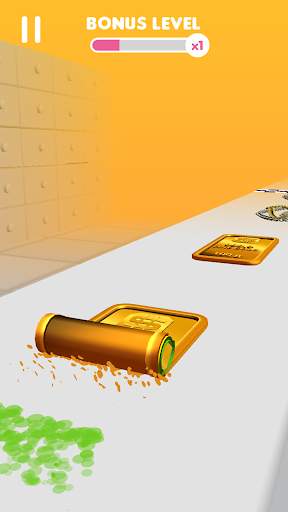 This is a really interesting cooking game. In your real life, maybe you are so tired of cooking things. You think that it is so time- consuming and tiresome to cook some food for yourself even if you have enough time. But actually after you play this game, you will find that it is so fun to slice and roll. And you will become addicted to making Sushi. And you will have this gre…
18 Feb,2021